"For Her" Valentine's Day E-Card Generator
This Valentine's Day, Chris Lane fans can surprise their loved ones with a customized "For Her" E-Card that features their photo and favorite "For Her" lyric. In addition to the e-card campaign, a sweepstakes component allows one lucky fan to win a call from Chris Lane. Check out this campaign here.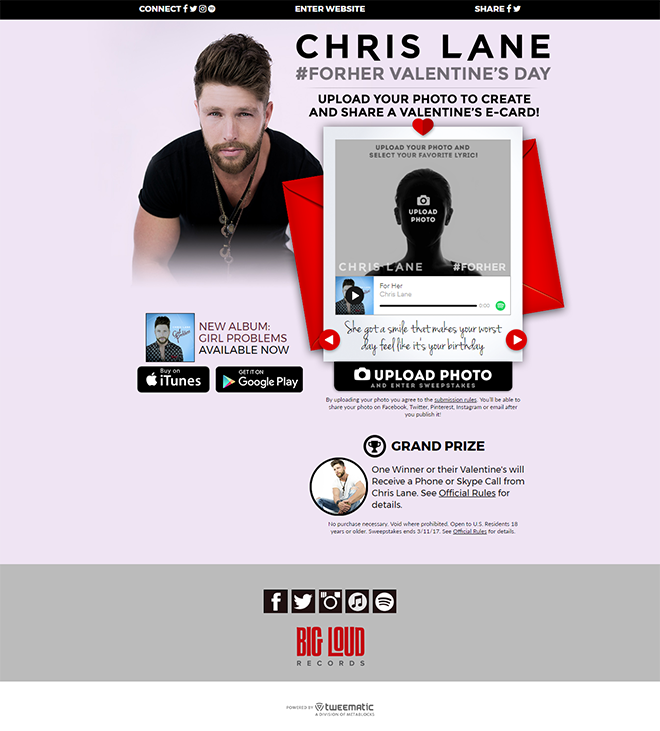 Florida Georgia Line Valentine's Day E-Card Generator
This Florida Georgia Line campaign allows fans to to create their custom Valentine's Day e-card and share it with a special someone on social media. Fans can select a card and lyric, plus add a personalized message to make the card more personal. The campaign also features a sweepstakes component that allows fans to enter for a chance to win a Merch pack. Click here to check it out.

Tremaine "The Playboy" Valentine's Day GIF Creator
This "Tremaine The Playboy" campaign was inspired by Trey Songz's show and allows fans to customize one of four  custom GIFs with a personal message to create a unique animated Valentine's Day GIF. This unique use generated content can be shared on social media, to build buzz and spread the word, as well as download or shared via email. Find out more about this campaign here.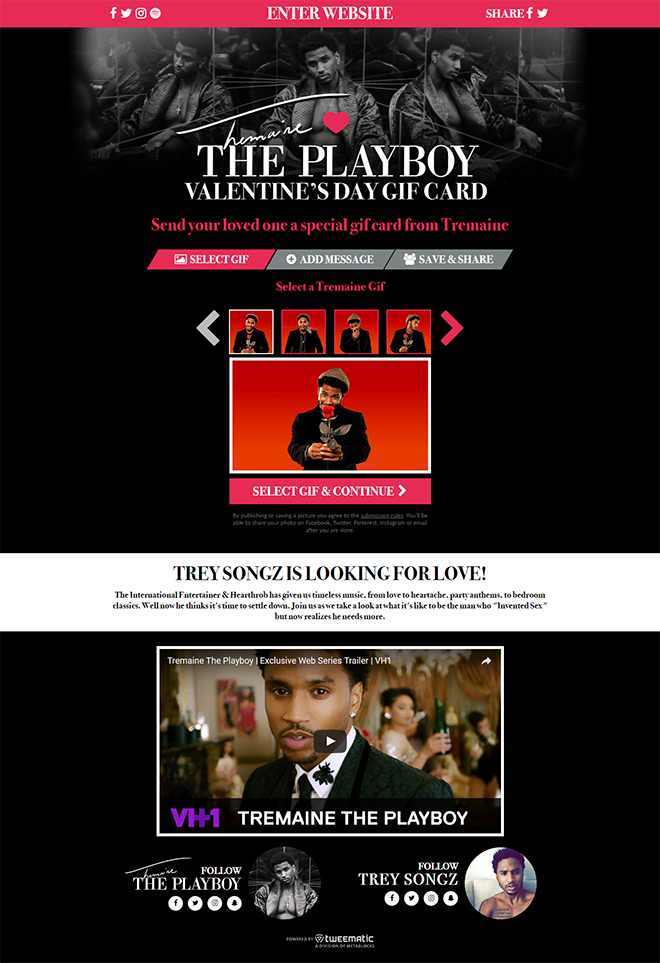 Brett Young Valentine's Day Sweepstake
For Valentine's Day, Brett Young encouraged fans to share one of four videos for a chance to win a Skype mini-concert. In order to be enter, fans must share their favorite video on Twitter or Facebook. All users who shared the videos, however, also unlocked an Edible discount coupon. See more here.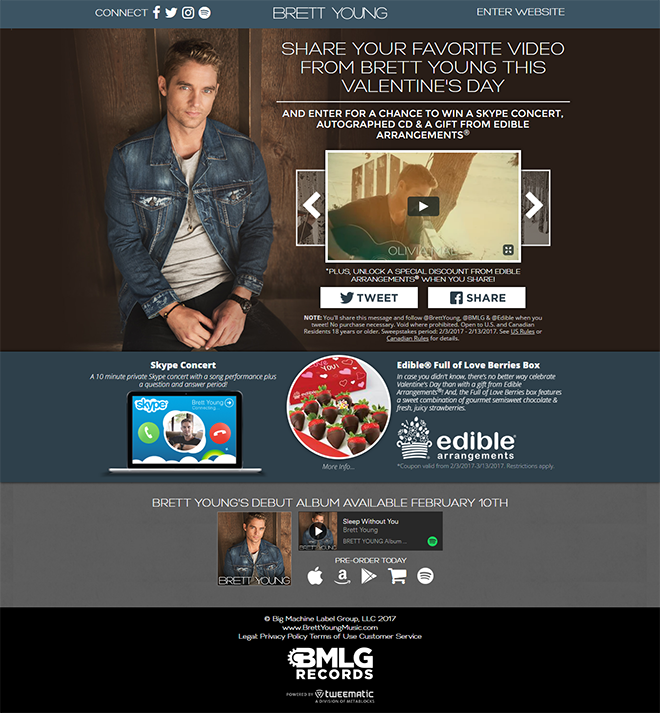 UMe "Love Music" Valentine's Day Sweepstakes
UMe put together great music and amazing prizes for this year's Valentine's Day. The "Love of Music" Sweepstakes enabled fans to follow two UMG Spotify playlists created and be entered for a chance to win prizes worth thousands of dollars. There were two entry options: a Spotify login (one-step entry which also enabled fans to follow the playlists) plus an email option for users who do not have a Spotify account. Find out more about this Valentine's Day campaign here.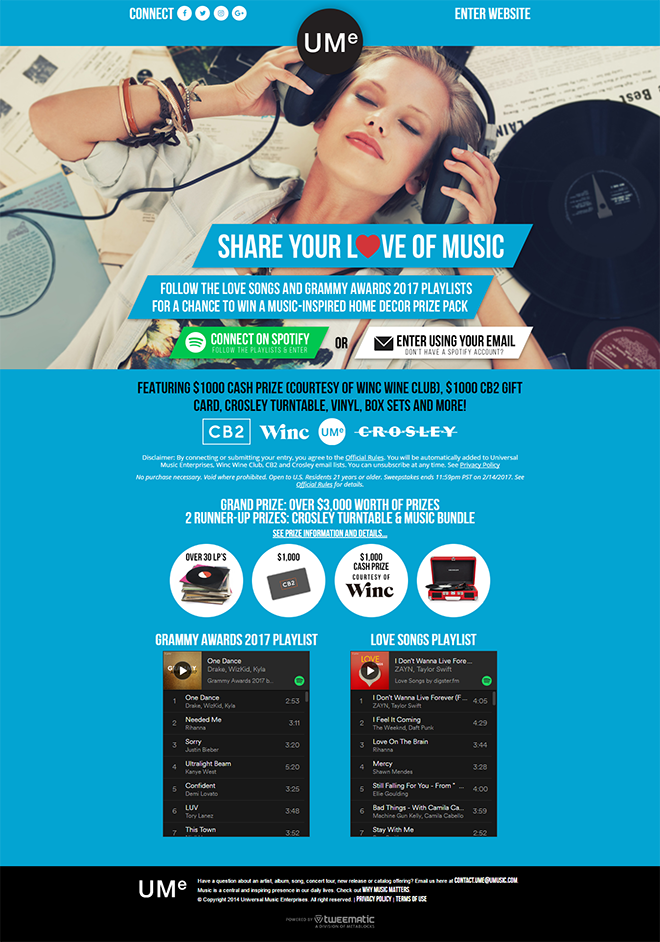 Kelsea Ballerini Valetine's Day (Yeah Boy)
E-cards are a natural choice when it comes to Valentine's Day campaigns! This "Yeah Boy" activation is another good example of how e-cards can be used to help promote a new single and spread the word. This campaign allows fans to choose a card and favorite lyrics, add a personal message and share it with friends or a loved one on social media. More information here.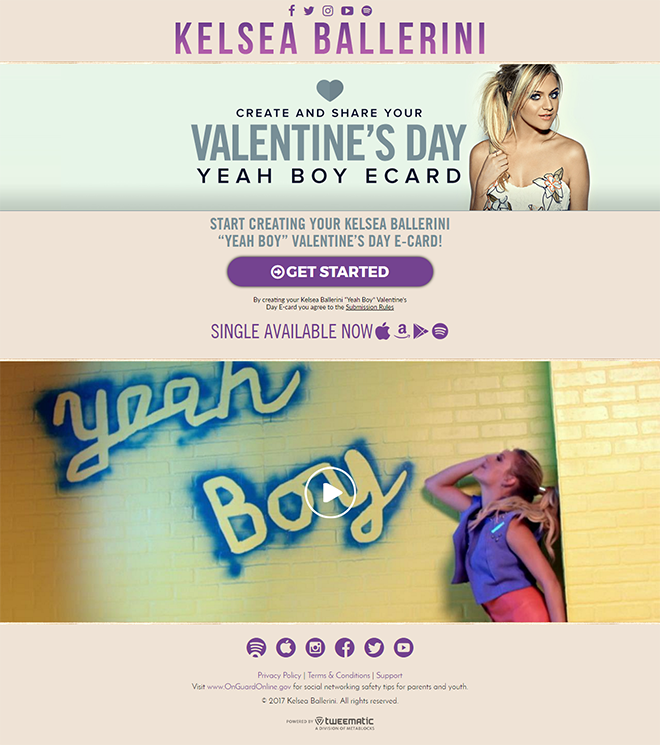 Bruno Mars Valentine's Day Card
Bruno Mars' E-card generator enables fans to upload their photo. pick their favorite streaming player, add fun stickers and share it with a loved one!  Learn more about this campaign here.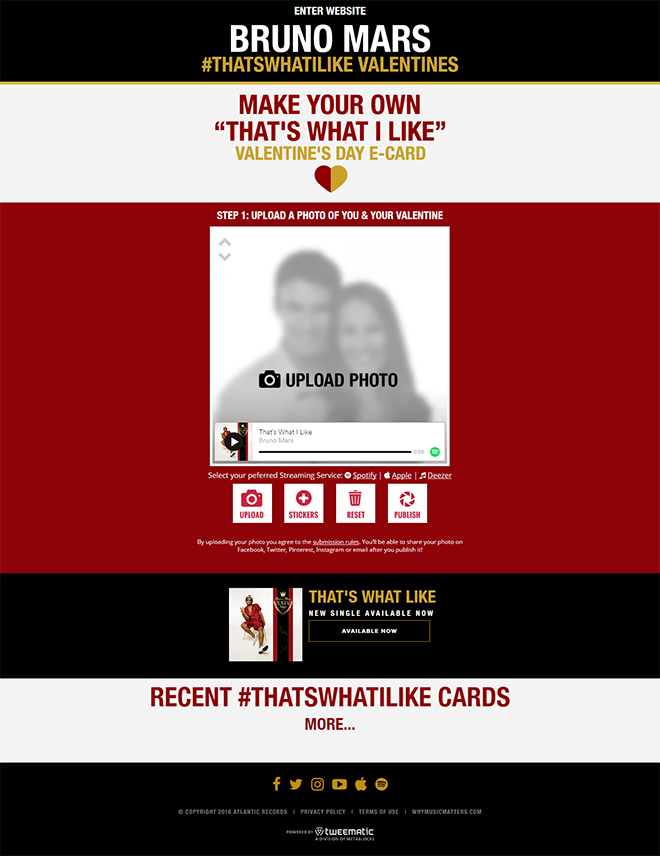 La La Land Spotify Sweepstakes
The Oscar Nominated movie has an equally valuable soundtrack. This Spotify activation we built for La La Land gives fans the opportunity to create a personalized playlist which includes songs from the La La Land soundtrack. Fans connect to Spotify then enter their name as well as their partner's name to create a custom playlist, perfect to listen to on Valentine's Day. The playlist can be shared on Facebook and Twitter to maximize exposure. You can try this application for yourself here.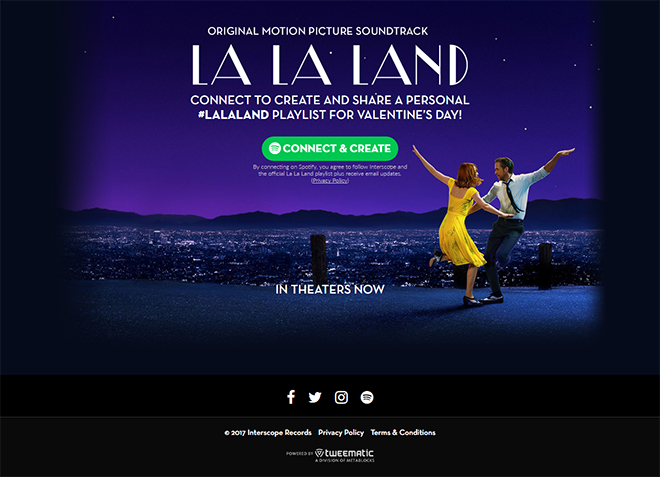 ---
Lastest 7 Posts in Static Category