Although we are known for our multi-language application in the gaming and TV network markets, not so much in music. Its usually because the budgets are small and timelines faster, but we are trying to change all that, here is how and why:
Built-in Support for Multiple-Languages: Our Facebook platform already has built-in support for multiple languages so we are going to bring that into our music application at no extra-cost to clients. Since the support is there already, all we have to worry about is the translations.
We'll Handle Translation: As we found in the past, translation can be a tricky business for labels. Waiting for regional partners or sister labels to do and approve translations is cheap but very time consuming. Not to worry. Thanks to Translation Services Singapore, we can handle translations in most languages in less than 8 hours (including Russian, Chinese and Japanese).
It's Probably Already Translated: Most of our application, such as the photo booth, has already been translated into certain languages (Spanish, Italian, German, Japanese), so guess what? We won't charge you extra!
Proven International Track Record: As i mentioned earlier, we have successfully designed, developed and launched international (multi-language, multi-region) applications for clients in gaming, movies, television and music! See the resources at the bottom of the page for more information.
We Understand Ecommerce: Center to the ability to localize text is the ability to localize commerce. This means the ability for country-specific iTunes and Amazon links based on where a user is coming from. This also means the ability to highlight local retail partners. We have managed complicated regional matrices of partners for gaming companies such as THQ.
Geo-Blocking or Geo-Locking? Not a Problem: Sometimes what clients need is the ability to limit applications to specific regions. We can do that to. In a recent example, our label partner Sony Chile is designing a kissing booth application for South America featuring 5 artists, but the U.S. based manager of one of the artists has requested that their artist be geo-locked for South American only (meaning that fans from outside South American cannot see/access their artist in the application). With the Justin Bieber T-Shirt Ardene T-Shirt contest, the application was limited (Geo-locked) to Canada only (the application also supported both English and Canadian French).
Here is a recent example from our Valentine's Day application for UMG artist Andrea Bocelli (see http://meta2.us/bocelli)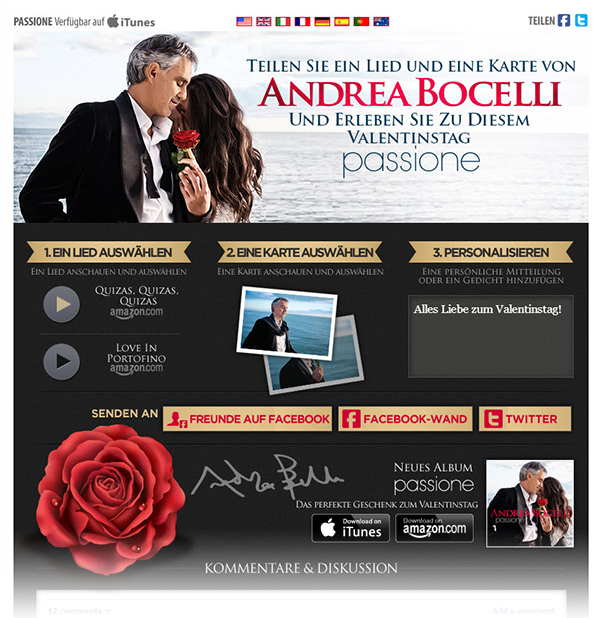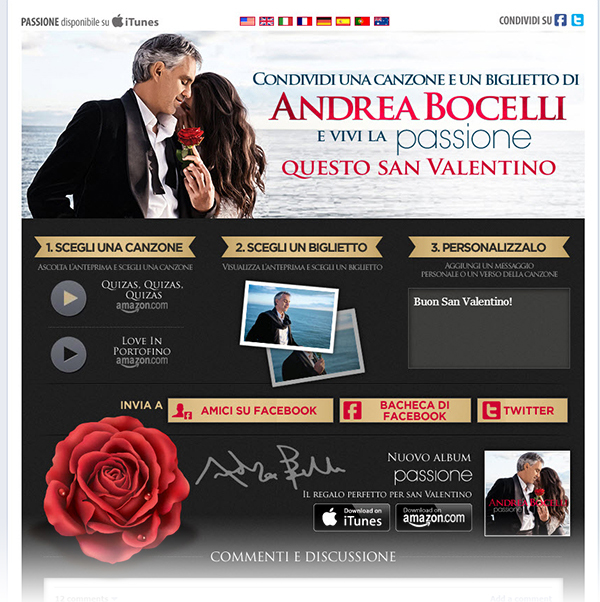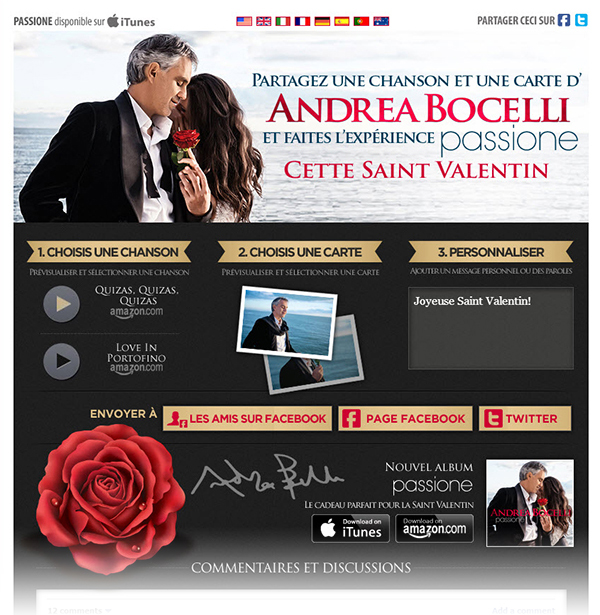 And the resulting Valentine's Day Cards also remember and adjust to the target country: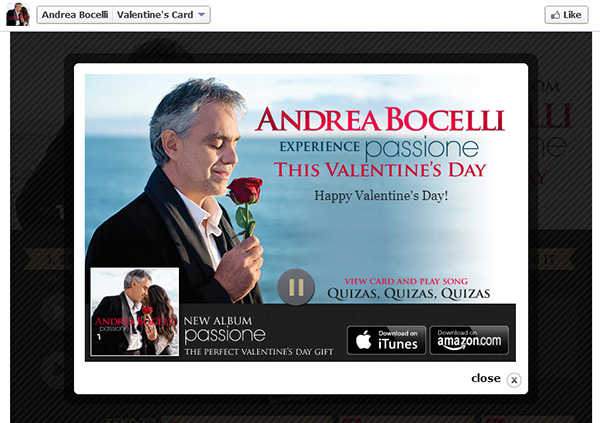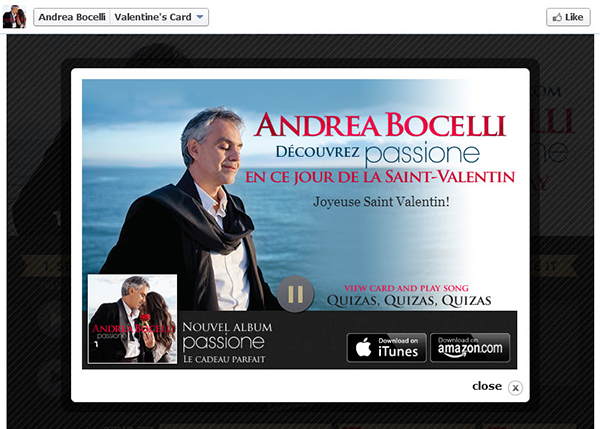 More reading:
---
Lastest 7 Posts in Static Category