Twitter Mosaics
Twitter mosaics allow you to create interactive, dynamic mosaics using the avatars of Twitter users (or Instagram users).  Other digital mosaic options include digital uploads, Twitter hashtag search, Instagram Search, YouTube feeds, and even custom image sources.  These digital and Twitter mosaics are designed to engage fans as part of twitter-based promotion and can easy to adapt to a variety of purposes, including album reveals or launch, digital sweepstakes, or user generated content campaigns that allow users to add their photos to a large-format mosaic poster that eventually gets printed out.  Additionally, twitter mosaics can be used as splash pages on artist website (either embedded as iframes or hosted on a microsites) to engage fans and encourage activations and sharing.
Additional Reading:
Digital Mosaic Basics
In order to recreate a digital mosaic (usually using a photo or an album cover) the fans need to upload a picture of themselves. This can be done via direct upload, a webcam or using social media channels like Facebook, Twitter or Spotify.  Users can usually adjust and save their photos.  In cases were the mosaic is going to be sold or including in an pre-order package, users are required to fill in a form with their name, email, date of birth, etc. and agree to the terms and conditions (submission rules) that give the client permission to use their photos in the mosaic.
Advanced Mosaic Features
Users can zoom in on mosaic content using a magnifying glass.  enables users to search for their picture and take a look at the other pictures which have been submitted to the twitter mosaic. The user can also share their mosaic picture, alongside a default message on social media or simply download it in their computer.
Mosaic Benefits
For users - Twitter mosaics are a good source of engagement and entertainment, by offering them the chance to be in a mosaic project hosted by their favorite artist or brand.  Certain brands and artist use twitter and instagram mosaics as part of album reveals, exclusive content unlocking and sweepstakes activations.  The option to share the picture on social networks creates event greater exposure and attracts even more users to engage with the mosaic.  Data collection is also a key benefit to artists and brands.
Successful Twitter Mosaic Campaigns
Metablocks has created a number of twitter mosaic campaigns, for clients in music and entertainment industry, including:
R. Kelly #TheBuffet Mosaic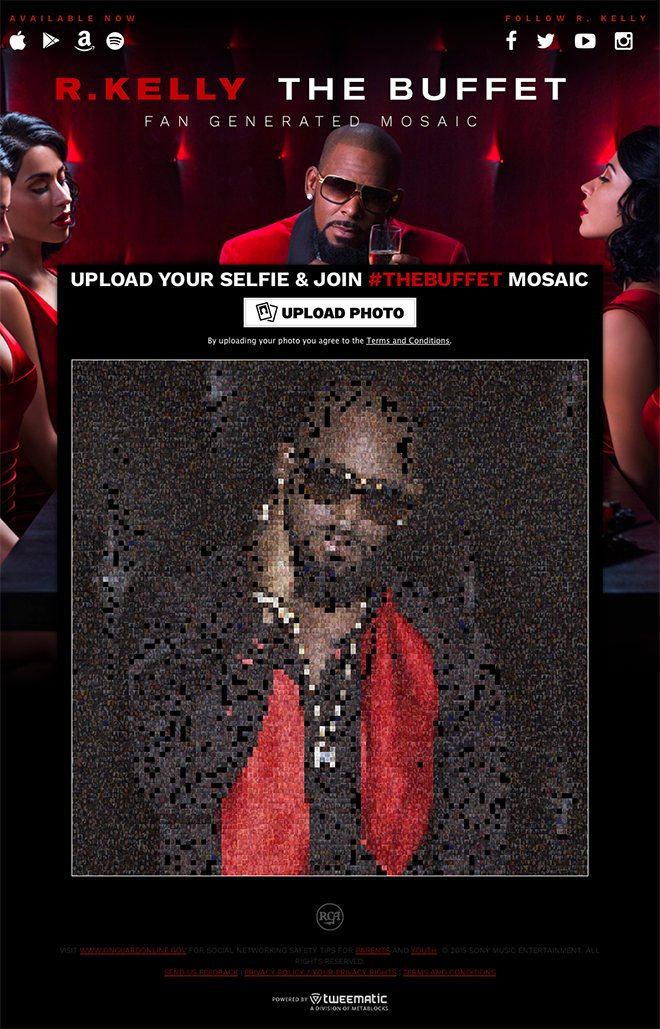 BabyFace #ReturnOfTheTenderLover Mosaic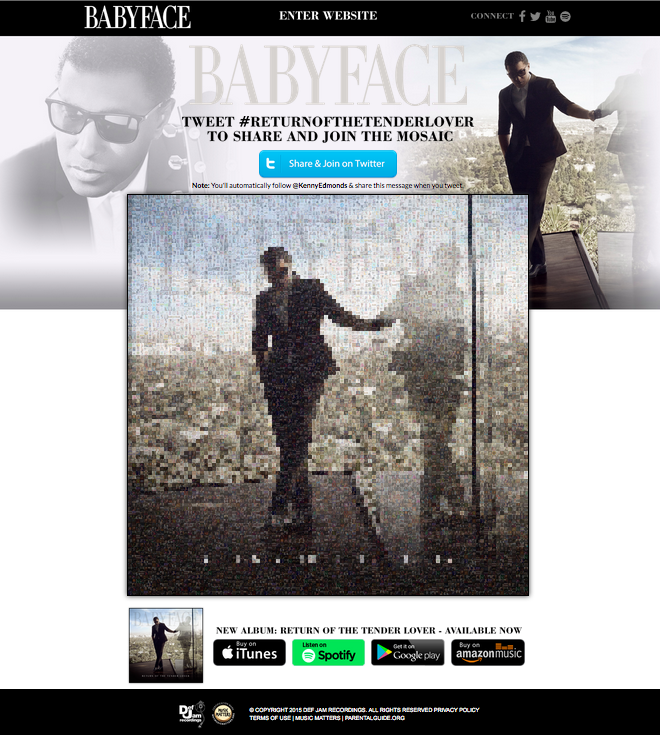 ---
Lastest 7 Posts in Mosaics Category