MOSAIC WALL
Our mosaic wall allows clients to quickly and easily use a picture (such as an album cover or photo) to create a social media driven mosaic using Twitter and/or Facebook user avatars (profile photos).
Primary Photo(s): Single photo, such as album cover.
Supported Content: Twitter avatars, Facebook profile photos
Notes: Not well suited for photos from Instagram, Twitter or other sources because they do not lend themselves to being minimized, also by default the mosaic shows a slightly bigger thumbnail (see below) and does not zoom much further than that.
Examples and Resources: Mosaic Marketing 101, Mosaic Marketing 102, Mosaic Album Reveals, Posters,
TWITTER WALL
Our twitter wall is a commonly used visualize we use on Tweematic applications that shows the twitter avatars of users tweeting with the same hashtag. Users can interact with the wall by mousing over individual thumbnails to see the message or clicking on the thumbnail to see the original message on Twitter.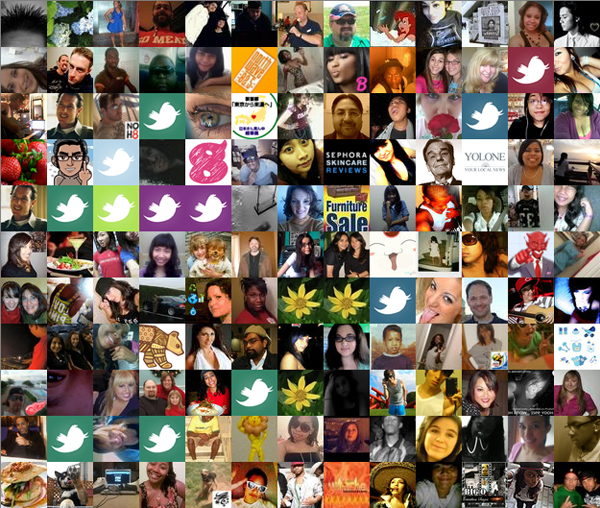 PHOTO/VIDEO WALL
Our photo/video wall is a relative new visualization tool here are Metablocks designed to display a mix of photos and video. Ideally suited for content from Instagram and Vine, stay tuned for upcoming application based on this visualization tool.
Supported Content: Photos from Instagram, Twitter ($$), or user generated photos. Videos from Vine.com or YouTube ($$$)
Notes: Photos/videos can automatically popup and play. Background tinting is optional. Full screen mode is supported.
Examples: See example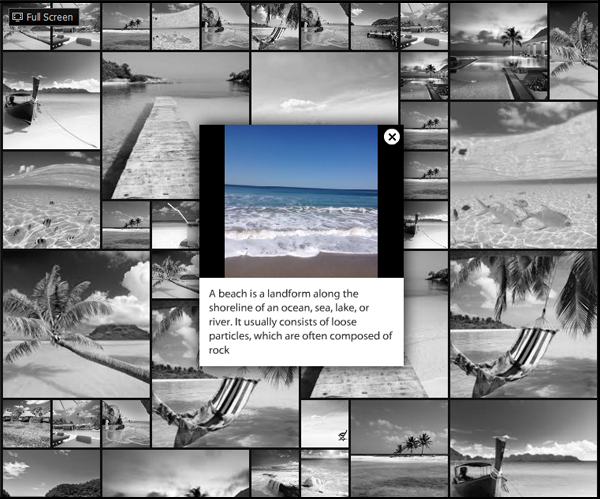 SHAPEMATIC WALL
Our Shapematic wall uses a set of avatars or images to create a shape or logo. We have used it as standalone application or in conjunction with Tweematic sweepstakes.
Primary Photo(s): Single black and white shape, logo or design (doesn't support photos, just be a shape)
Supported Content: Twitter avatars, Facebook profile photos ($), Instagram photos ($$), Twitter photos ($$$)
Notes: Most cost effective when used with just Twitter avatars. Added cost for Facebook, Instagram or Twitter photo support
Examples and Resources: Examples #1, Examples #2, Kendrick Lamar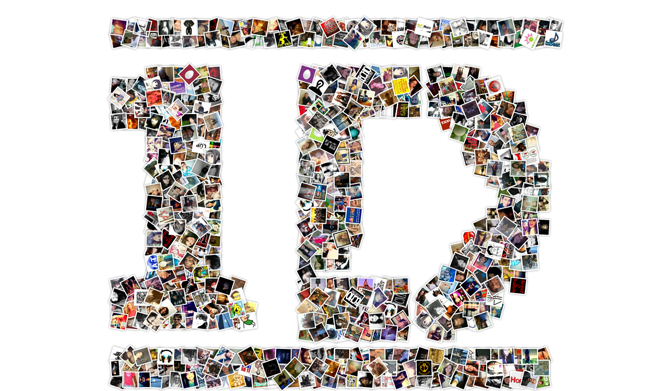 PHOTO BOUNCE
Our photo bounce wall is a very unique visualization that features falling photos that bounce and interact with user mouse clicks.
Supported Content: User generated photos, Instagram photos, Twitter photos ($$$)
Notes: Can be used as a visualization or a puzzle (game)
Examples: Example #1, Example #2, Game Example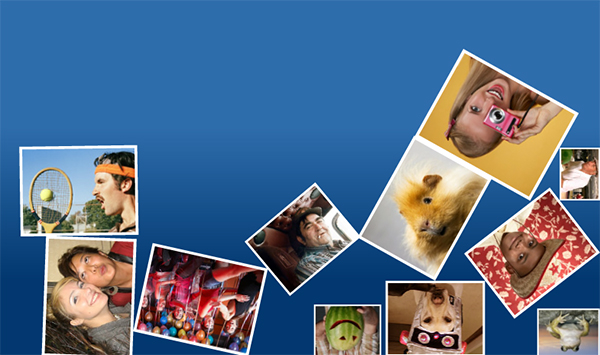 POLAROIDS
Polaroids are a simple way to display photos from various sources in an interesting photo-saavy way.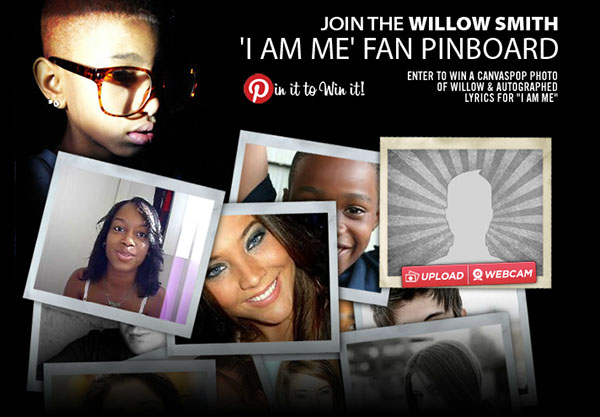 BASIC PHOTO GRID
The simplest visualization for photos. We make wide spread use of grids in many of our Facebook, Twitter and Instagram products.