We have done a lot of Pinterest sweepstakes in the past, but this one stands out as one of the most successful.  What has made the New Year, New You Contest so successful has been the ability of the GMAT team to deploy an intuitive, yet interactive sweeps, and follow through with a lot of great (and diligent) online marketing (see key points below).   You can also check out the promotion at http://www.mba.com/newyearnewyou or on their Facebook page.
See the results for yourself here…
 MAIN APPLICATION (See Facebook version below)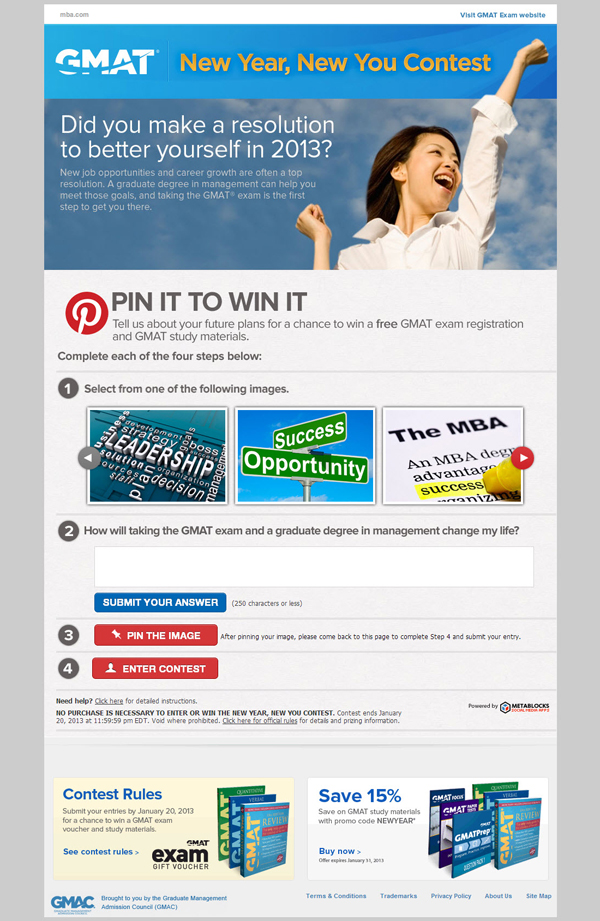 Key Points:
Here are some important takeaways from the promotion:
Promote, Promote, Promote

The folks at GMAT promoted the contest on the front page of their websites (mba.com), and on internal banners within mba.com
They also posted information on their Facebook, Twitter and other social networking sites
They purchased Google adwords and Facebook social ads
They sent out an email update (and reminder in the next couple of days)
Go International

The team at GMAT didn't limit their marketing activities but went after large international markets that make sense for them. Remember that viral traffic is viral traffic, energizing international markets can also help ignite local ones.
Sometimes targeting international markets can be less expensive than going after North American ones
Two is Better than One

Rather than have a single microsite for the promotion, the GMAT team opted to have both a microsite and a Facebook tab to host the contest. This allowed them to reach a broader range of consumers, some of whom don't have access to Facebook.

User Generated Content Works

Rather than host a static Pinterest contest that have been common even for large brands (See examples), the GMAT team choose to use our dynamic content engine that allowed uses to create and share custom photos.
Seamless CRM Integration Makes for Better Visibility and Marketing

Save time, save money, beef up privacy by integrating data collection directly into your CRM or email marketing system. This allows the GMAT team to have instant feedback on how well the promotion is doing. By giving them immediate access to statistics such as per country performance, the GMAT folks are able to fine-tune their marketing campaigns.
The contest itself include 3 key components: the microsite (see screenshot above), the Facebook tab (below) and the Admin Gallery (below) used by the GMAT team to judge entries.
FACEBOOK TAB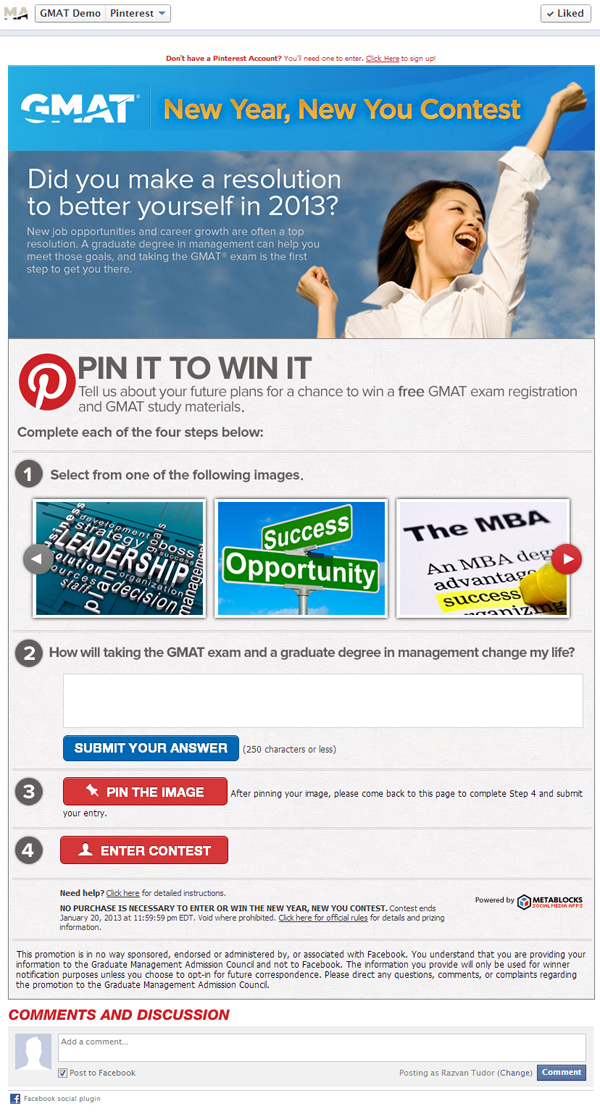 ADMIN GALLERY