We like comprehensive campaigns. By comprehensive, we mean campaigns that have multiple applications, promotion s or components (sometimes they live on, or leverage different social networks) that work together to create overall marketing success. While "single app" approaches work well in most cases and are the norm, big launches (such as Rihanna's LOUD album) can benefit from a more comprehensive "multi app" approach. These more comprehensive campaigns are actually NOT cost prohibitive. Because we try to showcase new apps and technologies and help our clients create a big marketing splash, we often discount projects to make them "larger" and more visible. A good example is Rihanna's Loudest Fan campaign:
Loudest Fan Photo Upload and Gallery
We developed a Facebook application that allowed Rihanna's fans to upload, publish and share their photos and their story of why they were Rihanna's "Loudest" fans. This Facebook application support both photo uploads as well as webcams. Fans were above to upload their photo, add a caption and publish it to their Facebook photo album. The application would also publish an album cover of LOUD with a link to purchase it on iTunes in the user's album! The photos would automatically get posted on user's newsfeeds, encouraging their friends to participate. This was built on the pre-cursor to our new Facebook Photo Booth application (used to host the One Direction and Justin Bieber promotions).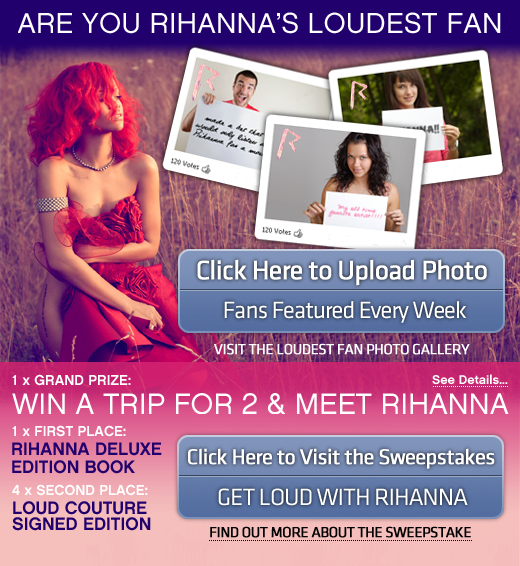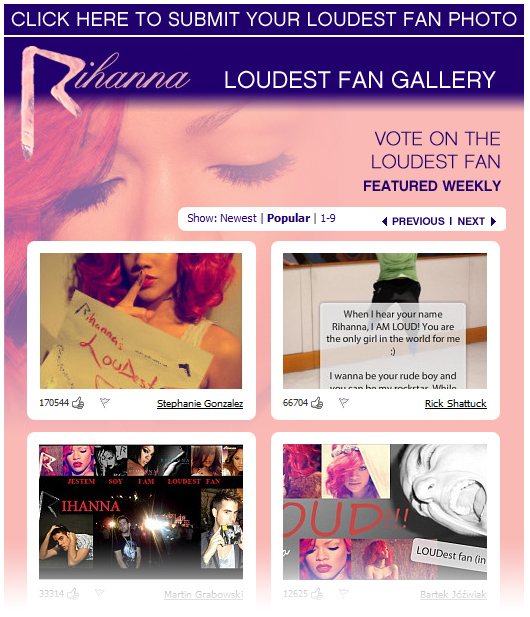 Loudest Fan Sweepstakes
Because of Facebook's sweepstakes policy at the time of the promotion, and in order to avoid the $10,000 fee Facebook wanted to access IDJ for doing a Facebook sweepstakes, the actually sweeps component was done "off-world" (off of Facebook on a microsite). The sweeps application did support Facebook connect so enjoyed most of the same benefits of native Facebook application including sharing, inviting friends, and posting to user's newsfeeds.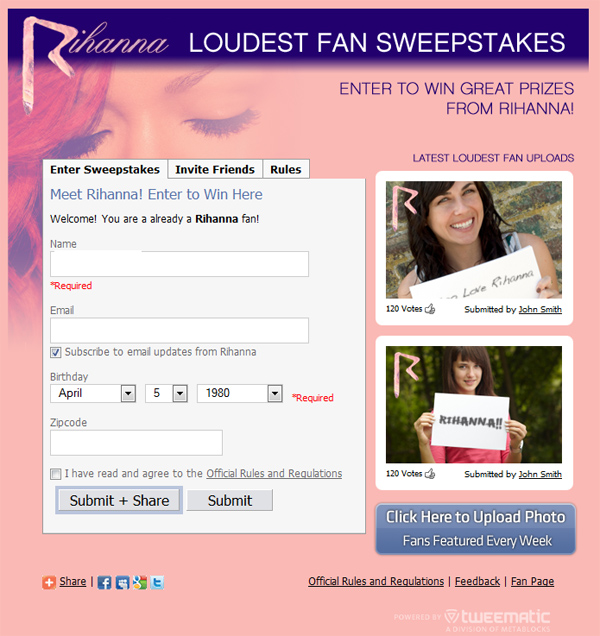 LOUD Listening Party
We also hosted an exclusive listening party for the new album on our Tweematic platform. Fans could stream the album for the first time after they shared a message on Twitter or Facebook and also followed (or "Liked") Rihanna. The listening party was a huge success! You have discussed in past posts, the benefits of using a Tweematic application to host a wide variety of listening parties.