At Metablocks, we have build and deploy hundreds of Spotify applications with the goal expanding this very important product category to delivery new and compelling applications build on the Spotify API.
Our latest offering is the "Pre-Save Album" Spotify app – think of it as "Pre-Order for Streaming". The idea is simple: engage fans (early and often) by encourage them to pre-save an artist's album on Spotify, usually by giving them some sort of incentive (such as an entry in an sweepstakes, exclusive content or simply the promise of exclusive content in the future).
You can check out our White Friday CMS Pre-Save Spotify app for Sony Music artist Yo Gotti at http://www.tweematic.com/whitefriday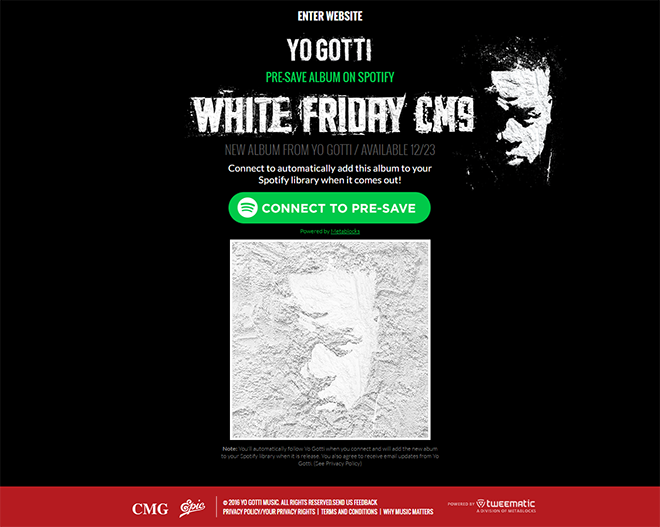 Once fans connect on Spotify (they automatically follow the artist as part of the process), they are able to specify where to save the pre-release album (if information is not provided, default settings are used), and whether or not they would like to receive an email notification.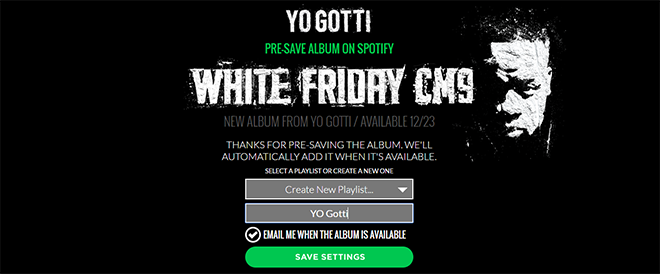 Mobile Version
All of our campaigns work seamlessly on mobile device and this is no exception. Like our other Spotify applications, this one is responsive and optimized to work on a range of popular mobile devices.