We recently did two video contests for Sony Verity. One for gospel artist Kurt Carr and the second for Murphy Williams. These contest showcase some of our different Facebook application offerings in this area and demonstrate different approaches to solving the Video contest problem.
Kurt Carr Video Contest
You can check it out at: https://www.facebook.com/TheKurtCarr/app_292864284168034
This version of the application allow you to record video (using a webcam) directly from the Facebook application (or any webpage) and automatically publishes it to the gallery. This is a great feature because it eliminates the need for fans to upload video to YouTube first and then resubmit it within the application.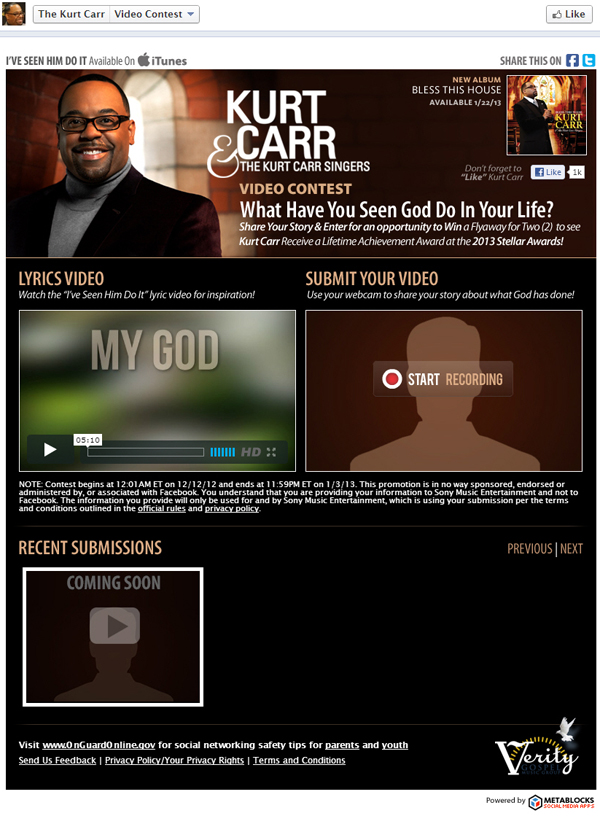 William Murphy Video Contest
This video contest is a little different. Because it requires a choir to perform and record a cover version of Will Murphy's single, having a direct webcam recording feature doesn't make that much sense. As a result, this video contest application takes the more traditional approach of having fans submit a YouTube link as part of the entry process.
You can check it out here: https://www.facebook.com/OfficialWilliamMurphy/app_338975289542827