We frequently get asked if we do Pinterest contests – the answer is obviously yes. Here is a quick round up of some of the Pinterest contest and sweepstakes applications we have deployed in the last couple of weeks.
The Band Perry: Pinterest Sweepstakes
The sweepstakes encouraged fans to upload their photos to create a unique The Band Perry "Post Card From Paris" (also the name of their new single) and share it on Pinterest. The application was hosted on their Facebook page and was also used to promote their entry in the CMT 2012 Music Awards.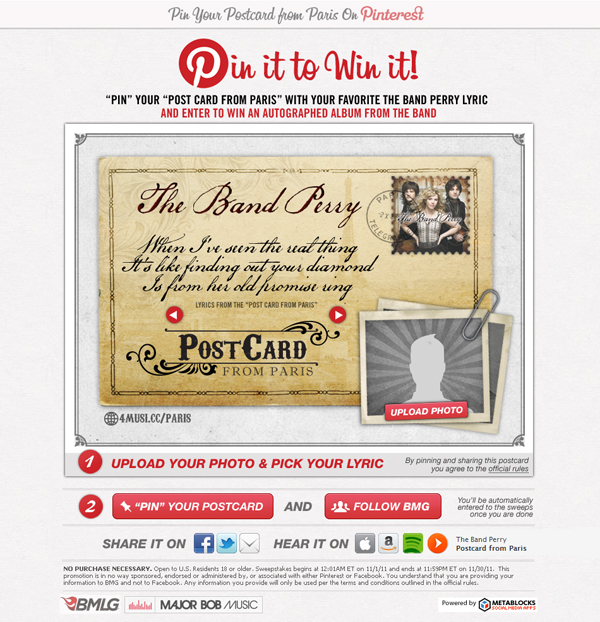 More Information and details:
Willow Smith: Pinterest Sweepstakes
This is the second project we have done for Sony artist Willow Smith. The idea behind the "Fan Pinboard" is simple: create a collage of fan photos and share them on Pinterest. Our approach to Pinterest has generally been to create unique and personal user generated content rather than rehashing and reposting the same old photo or picture, and this application follows this principal. Like the TBP Pinterest application, this contest was hosted on Willow's Facebook page.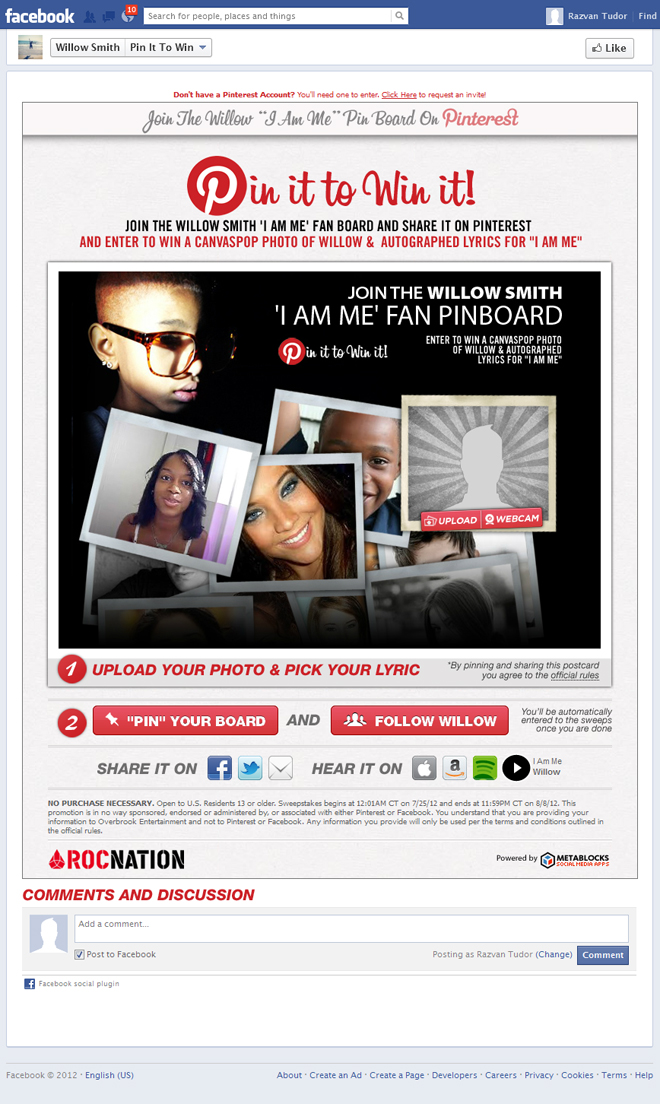 More Information and details:
Neon Trees: Pinterest Sweepstakes
Another great example of Pinterest sweepstakes deployed on our platform is this one for the Neon Trees. The idea is simple: upload your photo and join the user generated fanboard (similar to the contest we launched for Willlow Smith).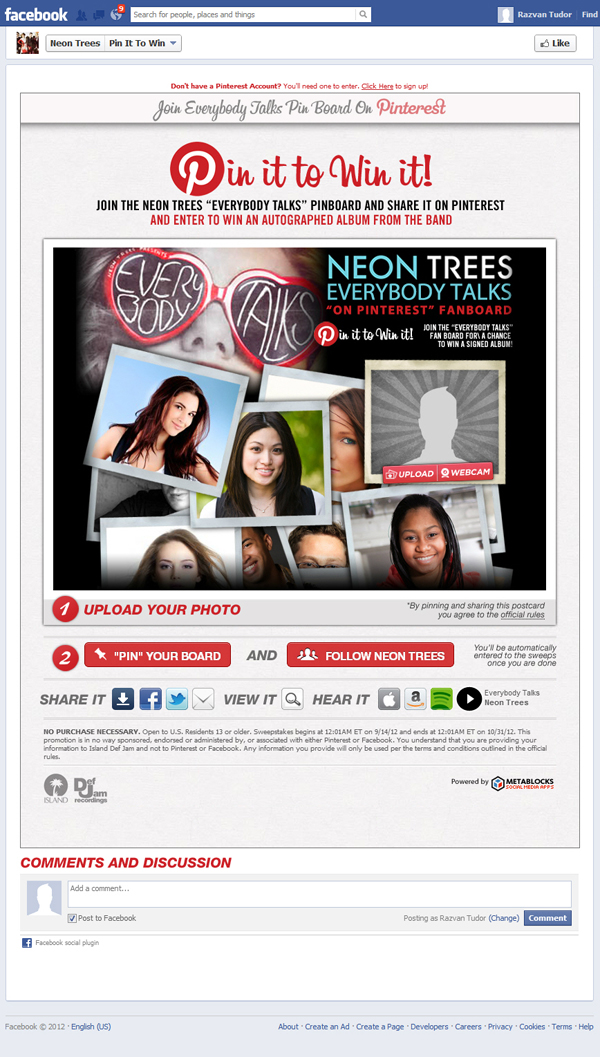 More Information and details:
Little Big Town: Pinterest Sweepstakes
This is a little different from most of our Pinterest sweepstakes application. As I mentioned, when it comes to Pinterest, we generally try and infuse promotions with some element of user generated content, but sometimes a simpler approach is sufficient or perhaps may even work better, this is such an example. This Pinterest sweepstakes applications calls on fan to pick and pin their favorite photo in order to enter the sweepstakes. This particular version also collects their information (name, email, opt-ins). This is actually an optional feature on our platform and isn't required, but definitely helpful if you are trying to grow your email list.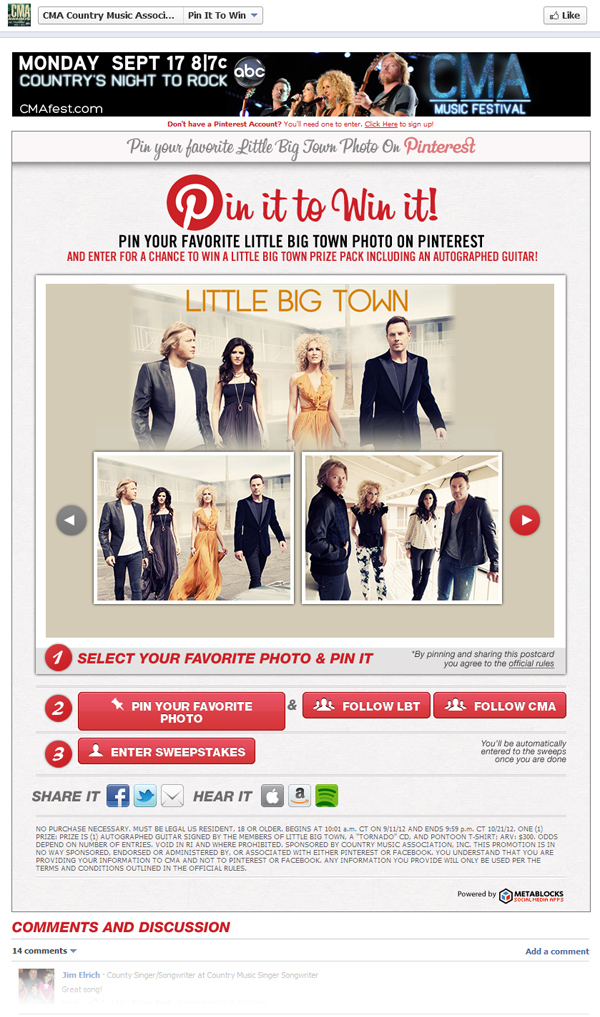 More Information and details:
Nelly Furtado
Similar to the Little Big Town Pinterest Sweeps, the Nelly Furtado "Parking Lot" Pinterest Sweepstakes builds on the voting concept by adding and unique and interesting twist: Pin an object from the upcoming video and you can enter to win!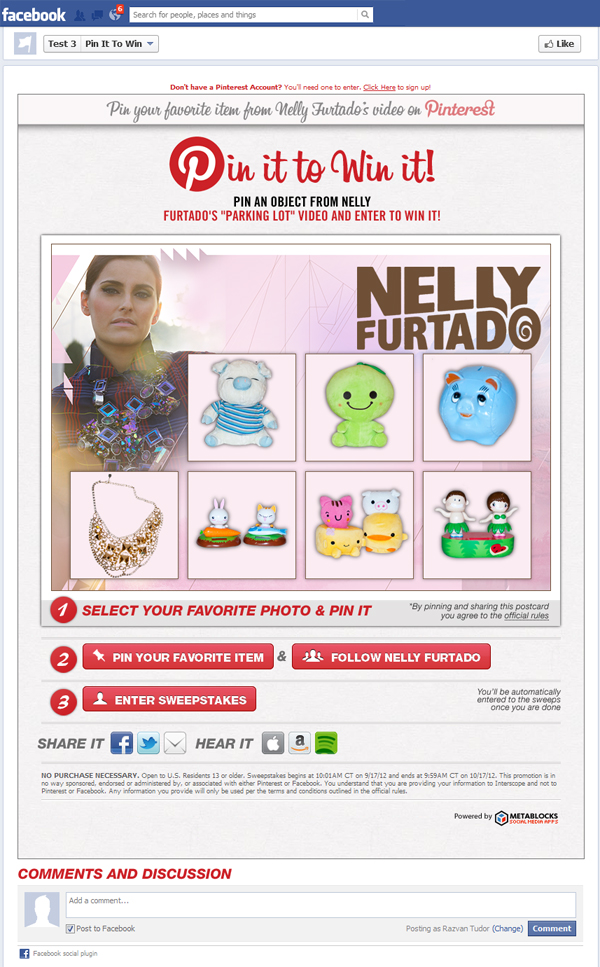 More Information and details: